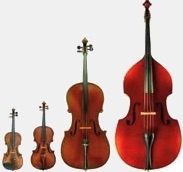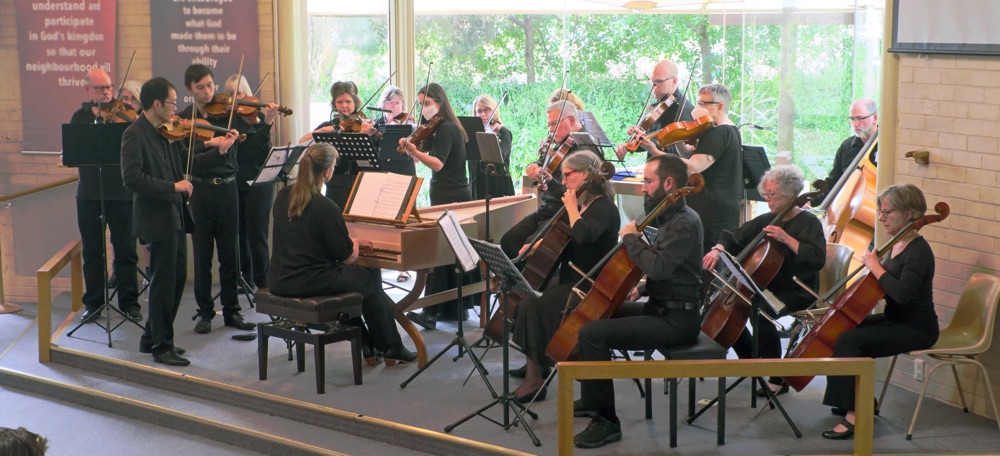 How better for us to show you what we do than to show you past concert programs and critiques. This is our Musica da Camera scrapbook, .... enjoy as you scroll down.
Did you know? Music da Camera is on SPOTIFY and BANDCAMP.
Our Nov 2017 concert recording has been released as a CD, and is available on SPOTIFY.
4th, 5th Nov 2017 Concert Program 4
Music from Mannheim
Conductor, Christian Renggli
Viola Soloist, Justin Julian
1. Johann Stamitz, Sinfonia in G
2. Johann Stamitz, Sinfonia in E-flat major
3. Carl Philipp Stamitz, Concerto for Viola
4. Franz Xaver Richter, Sinfonie in G major
5. Franz Ignaz Beck, Overturas I
6. Carl Philipp Stamitz, Orchestral quartet Op.4, No. 1 in C major
History in Pictures & Programs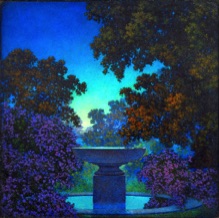 Writing in CITYNEWS.COM.AU Ian McLean described the performance as "well-performed, evocative and moving music" but found the two and a quarter hour length of the program a challenge.
"The first half featured music by composers killed in war or killed in the Holocaust. Concert conductor, artist-in-residence at the Australian War Memorial and the driving force behind the epic Flowers of War/ Flowers of Peace project, Christopher Latham, arranged all of the music utilising original material by FS Kelly, the Australian pianist who was killed in action at the Battle of the Somme, as well as three Jewish composers who were ultimately murdered in the Holocaust."
"The arrangements were well played by a balanced and tuneful Musica da Camera string orchestra, well led by Rosemary McPhail and supported by the always accurate Dr Edward Neeman on piano."
"The "Peacekeeper Symphony"... preview [...] occur[ed] after interval and was quite fascinating in its content. ... Music ranged from an Elena Kats-Chernin mournful variation on the South Korean folk song "Ariyang", through "Ghazali", a song from the Middle East, to a Graeme Koehne work depicting the fledgling Cambodian democracy following the horrors of the Pol Pot regime."
The reviewer noted the "The concert was enjoyable in its sombre storytelling."
Read the whole review <here>.
ODES TO PEACE
The story of peacekeeping missions in music.
25th March 2023
Direction: Christopher Latham
Soloists: Edward Neeman (piano)
Matthew O'Keefe (clarinet)
Susannah Lawergren (soprano)
Riley Lee (shakuhachi)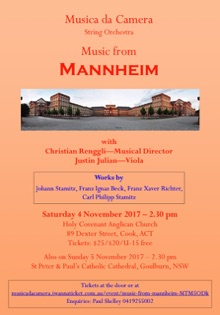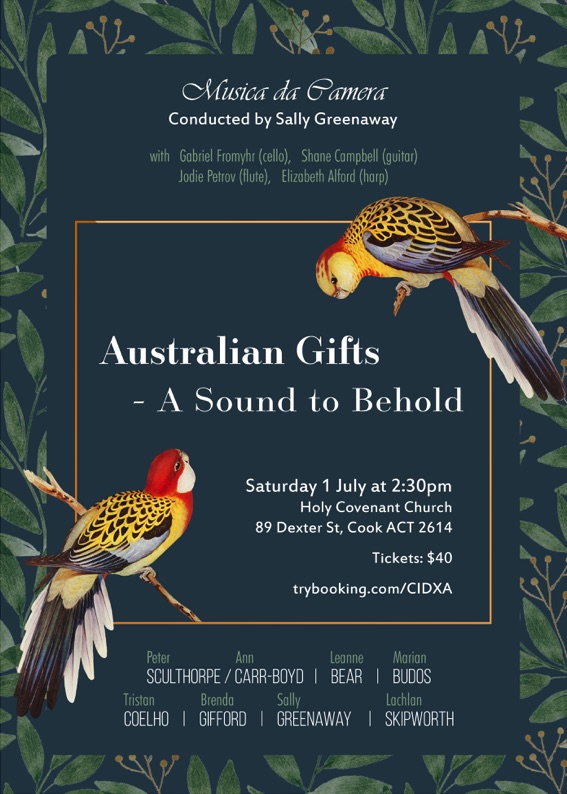 1 July Concert "A Sound to Behold"
Graham McDonald, writing in citynews.com.au :-
"It is not often an entire program of classical music for a small chamber orchestra is fully devoted to Australian compositions, and even more noteworthy is that of the eight composers featured, five were present at the concert and introduced their music....
"For this concert [Musica da Camera] invited local composer Sally Greenaway to conduct and she put together an intriguing and varied program of string orchestra music, augmented by various soloists as required...
"It was pleasant to hear a concert of "new'" music that was approachable and entertaining, and did not feel the need to delve into musical extremes simply because it could....
"a well-conceived and finely performed concert."
Read the whole article here <click here>
Thanks also to Peter Hislop for his photos.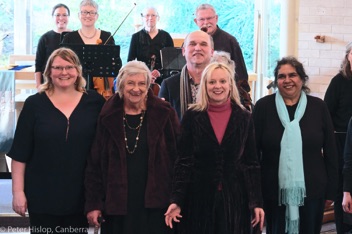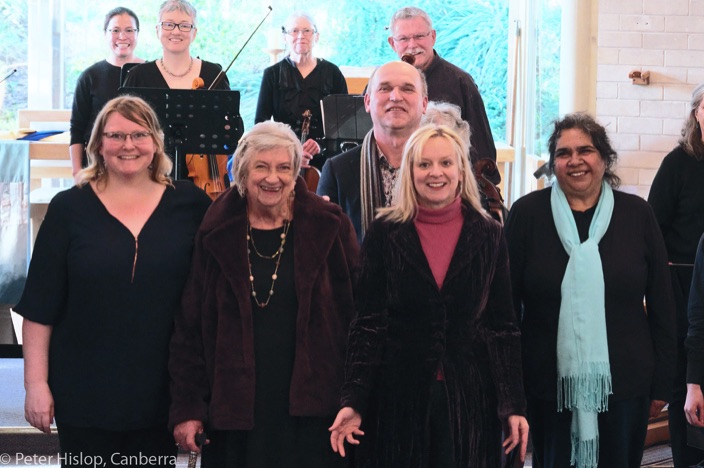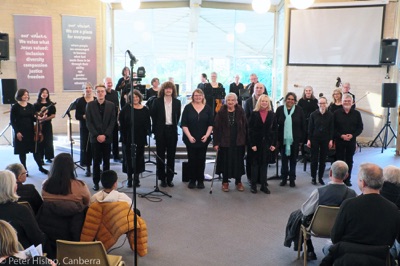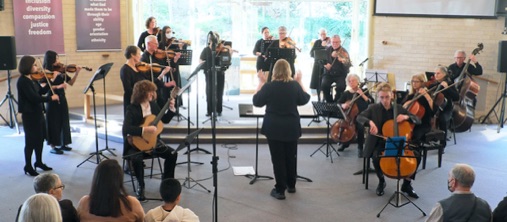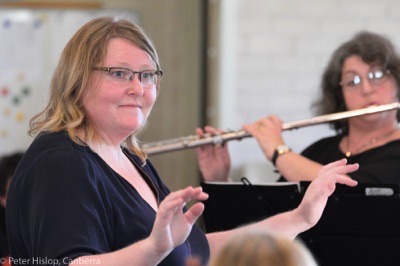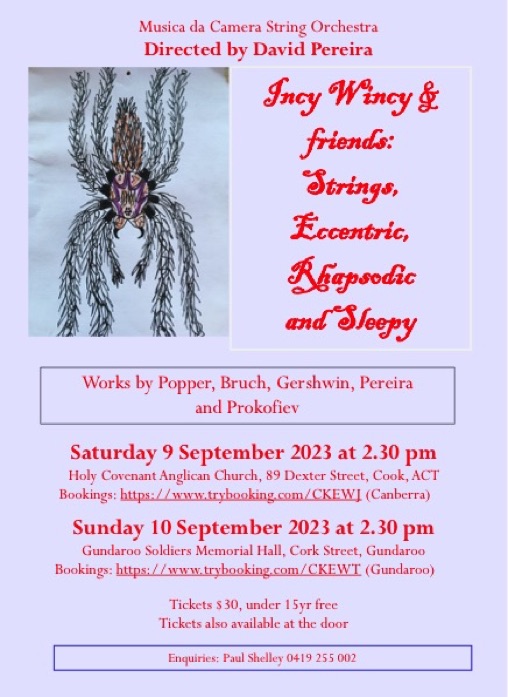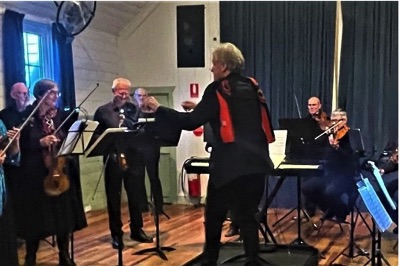 Review
Sun 10th September 2023: Musica da Camera directed by David Pereira.
Helen Musa, in the Canberra City News, wrote ...
"A showbag of pleasurable musical offerings"
"The dramatic opening featured Pereira, easy and comfortable as soloist, who with ensemble, played the showpiece, David Popper's Romani-inspired "Hungarian Rhapsody."
"Linked to the Popper by its inspiration in folk music, the second work was Max Bruch's "Serenade for Strings after Swedish Folk songs". Here Pereira took the baton.
"These first two works were performed with energy and verve...
"The centrepiece of the afternoon was Pereira's own composition, "Variations on Incy Wincy Spider",in which he has taken the nursery rhyme and used it as a basis for atmospheric music, divided into segments. .....
"This concert, which proved accessible to both children and adults, wound up with Prokofiev's fearsome finale, "Feroce" "
Read the whole review <click here>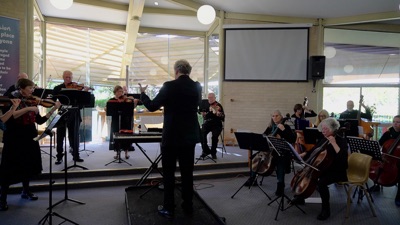 "Afternoon of baroque to defy expectations"
So wrote Len Power about our 4 November concert (in citynews.com.au).
"IN Musica Da Camera String Orchestra's latest concert, musical director John Ma promised a program that would defy expectations.
" 'An Afternoon of Baroque' was full of musical surprises from the baroque era with works by several unfamiliar composers as well as some works with unusual elements by well-known composers such as Telemann and De Mondonville.
"The program commenced with "Suite No.1 in C major" "Le Journal du Printemps" by Johann KF Fischer, a German baroque composer whose music was strongly influenced by the French Baroque style. The suite was in six parts, with the first part, the grand-sounding overture, played confidently and well by the orchestra, led by John Ma on violin. The third part, "Air des Combattans", was highly dramatic and colourful and the final chaconne was also nicely played.
"Another relatively unknown composer, Englishman William Boyce, was next with his "Symphony No. 2 in A major". This was a nicely distinctive work with the second part, vivace, especially well-played by the orchestra. ...."
You can read the whole review <here>