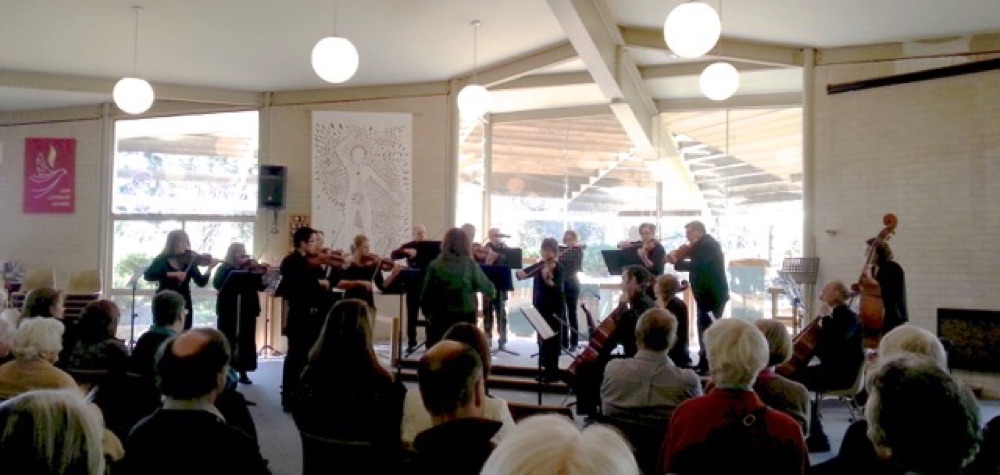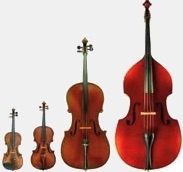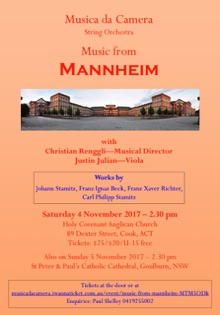 Who is Musica da Camera ?
Musica da Camera is a Canberra-based string chamber orchestra that consists of professional musicians, music educators and talented instrumental enthusiasts.
Musica da Camera was formed in Canberra in 1979 as a small baroque ensemble. Over the years and under successive musical directors it has grown in size and its repertoire has expanded to embrace chamber music of all styles and periods. In recent years it has given Australian Premiers of a number of contemporary works for string orchestra.
How better for us to show you what we do than to show you past concert programs and critiques. Here's a selection,.
Nov 2017 Concert is now on SPOTIFY
This landmark program for Musica da Camera with inspired direction by our guest conductor and truely outstanding viola playing by our solist, has been released as a CD, and is available on SPOTIFY.
4th, 5th Nov 2017 Concert Program 4
Music from Mannheim
Conductor, Christian Renggli
Viola Soloist, Justin Julian
1. Johann Stamitz, Sinfonia in G
2. Johann Stamitz, Sinfonia in E-flat major
3. Carl Philipp Stamitz, Concerto for Viola
4. Franz Xaver Richter, Sinfonie in G major
5. Franz Ignaz Beck, Overturas I
6. Carl Philipp Stamitz, Orchestral quartet Op.4, No. 1 in C major
November 2017 concert critique.
"Mannheim to the max"
Len Power's Review
" FROM the opening bars of the first item in the Musica da Camera presentation, it was clear that this concert would have a dynamism that would be exciting, dramatic and very enjoyable.
...
The first work played – the [Stamitz] Sinfonia in G minor – required the orchestra to start at the top of its form. Conductor Christian Renggli ensured that the playing was crisp, accurate and colourful from the dramatic opening, through the nicely reflective second movement and on to the exciting finale.
.....
"Violist Justin Julian joined the orchestra along with additional brass and wind instruments for the Viola Concerto in D major by Carl Stamitz. Often set for auditions for viola players, this work is a great showcase for the instrument and the performer. Justin Julian played with great feeling and precision and the orchestral accompaniment for this melodic and emotional work was excellent.
.....
"Christian Renggli produced an excellent concert with the orchestra, giving the audience a keener appreciation of the works and composers of the influential Mannheim School."
For the whole article on the Citinews website Click Here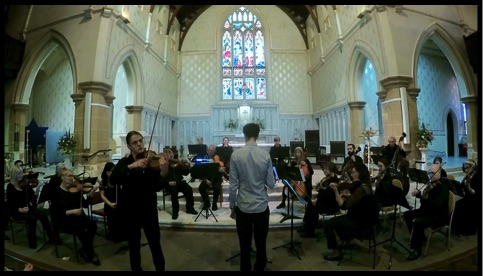 "Classic Opera" with Louise Page, September 2018
Len Power writes in the Canberra Critics Circle:-
...Musica da Camera string orchestra played a second performance on Sunday at Sts Peter & Paul's Catholic Cathedral in Goulburn.  The acoustic in the cathedral has been much praised so it was a good opportunity to travel to Goulburn to listen to the orchestra in that setting.  Hearing the soprano, Louise Page, singing in that venue was another very good reason to go.
For the first half of the program, Louise Page performed arias by the composers – Handel, Purcell, Gluck and Mozart.  The arias covered a wide range of emotions and all were beautifully sung.  Hearing her top notes filling the cathedral was thrilling.  Page gives great depth to the characters she is singing and they come alive for the audience.  She was especially memorable singing Handel's 'Ah! Spietato' from 'Amadigi de Gaula' with nicely played oboe from the orchestra accompanying, Purcell's, 'When I am laid in earth' from 'Dido and Aenaeas', Gluck's 'Che faro senza Euridice' from 'L'Orfeo' and 'E Susanna…Dove Sono' from Mozart's 'The Marriage of Figaro'.  The balance between singer and orchestra was nicely judged and the musical accompaniment for all of the items was well conducted by Leonard Weiss.
The orchestra, which was augmented with some brass and wind instruments for the concert, played Mozart's Symphony No. 40 for the second half of the program.  Musical director, Leonard Weiss, achieved a tight, clear sound with lots of colour from the orchestra.  It was well played and sounded excellent in the cathedral.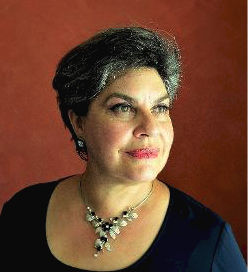 "Classic Favourites" November 2018
Some excerpts from Len Power's review in the CityNew,com,au:-
MUSICA Da Camera String Orchestra's concert was an easy-going and enjoyable mix of classic favourites that would be well-known to most music lovers.
...The program commenced with a nicely played "Concerto for Four Violins" in B minor by Vivaldi. Rosemary Macphail, Jocelyn James, John Dobson and Heng Lin Yeap played their solos with skill and warmth and the final movement was especially well-played.....
... pieces by Elgar followed – "Salut d'Amour: and "Chanson de Matin". The orchestra gave the first work a lush, romantic sound and the second work was notable for the emotional depth in the sound produced by the orchestra......
...Thirteen-year-old Chantelle Bennett joined the orchestra as soloist for Massenet's "Meditation". .... Bennett played with great beauty and precision, making this one of the highlights of the program....
...Other short works by Sibelius, Delibes and Dvořák were played very well and another highlight of the concert was Corelli's "Christmas Concerto". The orchestra gave a crisp, very atmospheric performance of this work that was most enjoyable....
...Rosemary Macphail played the solo violin for "Czardas" by Monti with great feeling, bringing out the raw passion in this work and the concert concluded with the audience favourite, "The Radetzky March" by Johann Strauss....
... The works presented might be familiar from recordings and the radio, but hearing them played live added another dimension, especially as the orchestra played them very well and with such obvious pleasure.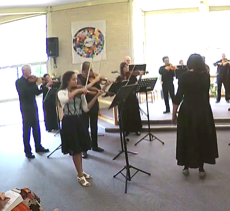 Massenet's Thais with Chantelle Bennett as soloist (17/11/2018)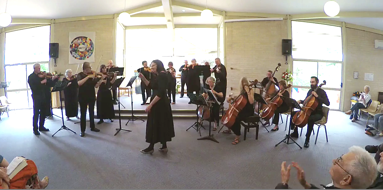 The audience participates in the Radetzky March (17/11/2018)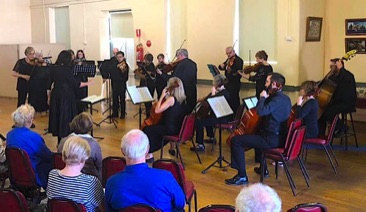 Rosemary McPhail was soloist in Monti's Czadas. (Cooma, 18/11/2018)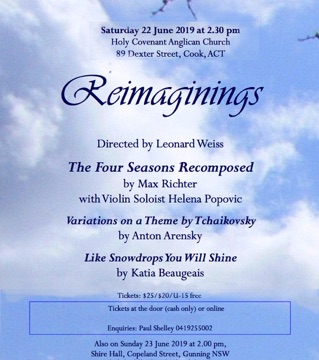 "Re-imaginings" June 2019
Some excerpts from Len Power's review in the CityNews.com.au:-
"REIMAGININGS" proved to be an apt title for Musica Da Camera String Orchestra's latest concert, which presented three works, two were variations of music by Tchaikovsky and Vivaldi, and the third, an Australian work that contained a set of variations on a main theme...
... "Variations on a theme by Tchaikovsky" ...was played with great feeling by the orchestra, especially the quieter passages.
... "Like Snowdrops You Will Shine" was composed by French-Australian composer, Katia Beaugeais. ... It shimmers with atmosphere and the orchestra gave it a fine performance. The composer was in the audience and received well-deserved applause at the end.
... "The Four Seasons Recomposed" by Max Richter is a startling work from 2012. Taking parts of Vivaldi's famous work, Richter makes them his own in a style described as postmodern and minimalist.
... Violin soloist, Canberra's Helena Popovic, joined the orchestra for this challenging work. She gave an excellent performance, full of passion and energy as well as sensitivity and delicacy in the quieter moments of the work. The orchestra complemented her performance with accuracy and energy. They all truly deserved the thunderous applause they received at the conclusion.
... Once again, Musica Da Camera presented a fine concert. The nearly full house was a demonstration of their growing reputation amongst Canberra's music lovers..
Read the full review by clicking this link: CityNews.com.au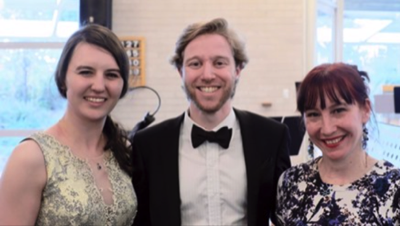 Soloist Helen, Conductor Leonard, Composer Katia (22/6/2019)