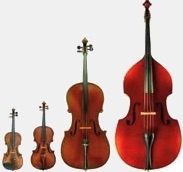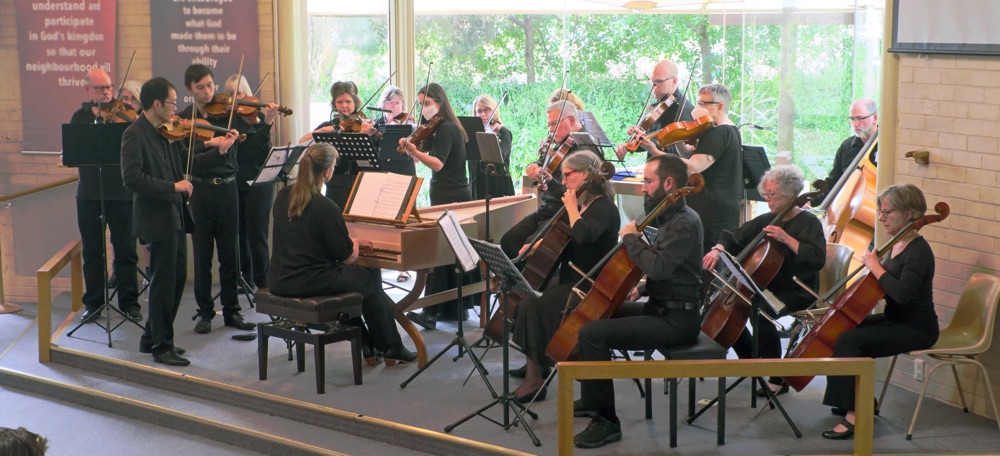 A record of achievement
Critiques from recent concerts
We're proud of ...... The May 2015 Concert
Len Power wrote a great review of the May 2 concert published by "Canberra Critic's Circle"
Some highlights...
"It was an ambitious program with plenty of variety from well-known items to others not so familiar.  The feature work by Shostakovitch would test any orchestra's abilities and Musica Da Camera played it very well.  It's a remarkable work – sombre but deeply emotional with frenzied passages that are dramatically satisfying.  The Elegy For String Orchestra by Kelly was also beautifully played achieving a strong sense of grief for the loss of a loved one...
"The well-known Vivaldi concerto was a good contrast and nicely played, as was October by Eric Whitacre, a lesser-known work that evokes autumn.  The sound was distinctly American and it was played with grandeur and great feeling.  The other items played were also very enjoyable...
"Leonard Weiss has done great work with the orchestra here.  From the choice of works to the confident playing by the orchestra, this was a very enjoyable concert..."
The Aug 2015 concert
Review by Len Power 8 August 2015 published by "Canberra Critic's Circle"
In the second of their three concerts this year, the Musica da Camera String Orchestra presented an outstanding concert of works by modern American composers, one by an Egyptian composer and 'a taste of the baroque'.  It was confidently conducted by Michael Sollis, who gave interesting background information about each work prior to the orchestra playing it.
This concert also had Greg Stenning, trumpeter and Director of Music Performance at St. Edmunds College and Kiri Sollis, flautist, with three of her students – Rena Li, Sian Jackson and Shannon Nutt.
Written in 1948, George Antheil's Serenade for string orchestra was a good choice to start the concert.  The two rousing movements bookended a beautiful adagio that, while melodic, had an underlying eerie tension reminiscent of the film music of Bernard Herrmann.
The touch of baroque in the concert was from Heinrich von Biber with the fourth in a series of twelve 'Sonatas suitable for altar or court', published in 1676.  This was grand and glorious music with Greg Stenning's marvellous trumpet playing sailing above the orchestra.
According to the program, Egyptian composer, Halim El-Dabh, is probably the best known composer of Arabic descent.  His short work, Aria for Strings, composed in 1949, was played with great sensitivity, bringing out the melancholy emotion of the work.
Charles Ives' music can polarize people but his 'The Unanswered Question', written in 1906 and revised in 1934, is quite accessible and fascinating.  The combination of the trumpet and the flutes with the orchestra in this piece is unforgettable, creating a haunting soundscape.  It sounds difficult to play but they made it seem effortless.
The concert concluded with another work by an American, Eric Ewazen.  His Concerto For Trumpet and Strings, written in 1990, blazes with colour and the atmosphere of the rolling American countryside.  It brought back memories of film music written for movie Westerns.  The single trumpet part produced a solitary, lonely feeling and was played expertly by Greg Stenning.
The Musica da Camera String Orchestra chooses often unfamiliar works to perform but these works are accessible and enjoyable.  This was another fine concert.
The Nov 2015 concert
Review by Len Power 14 November 2015 published by "Canberra Critic's Circle"
One of the really good things about Musica Da Camera's concerts is the variety of items in their programs. This concert included classic Vivaldi, delightfully complex C.P.E Bach, nervously troubling Hindemith, glorious Pergolesi and sublime Nielsen.
Nicely conducted with good control by Jonathan McFeat, this 17 or so person orchestra produced a fine sound in all of the works presented.  The acoustics of the Holy Covenant Church at Cook made it an excellent venue for a classical concert.
The program got off to a good start with Vivaldi's Concerto Grosso in D-Minor.  Its three contrasting movements were well played, especially the second movement which required a gentle, delicate touch to bring out the emotions under the surface.
Next, the orchestra played C.P.E. Bach's Sinfonia No. 2 with great confidence and vibrancy.  The third movement was especially well performed, displaying the drama in the music.  You could see in the orchestra member's faces that they were having fun playing it, too.  In complete contrast, Paul Hindemith's Fünf Stücke (Five Pieces) is an enjoyably nightmarish work with great variation between its five parts.  The lively third piece was the standout here, the conductor and orchestra nicely bringing out the haunting nervousness under the surface.
Pergolesi's Concerto For Solo Flute was a spirited, joyful work with a great second movement, sensitively played by flute soloist, Rebecca Carpenter.  The orchestra was particularly successful in showing the full colour of the rousing third and final movement.
Widely recognized as Denmark's greatest composer, Carl Nielsen was represented in this concert with his Suite For Strings, Op. 1.  It's a sublime work, lilting one moment, grand in scale the next and it was played very well by the orchestra.  It was a great choice to wind up a very enjoyable concert.
Once again, Musica Da Camera shone with thoughtfully chosen works consistently well played.  They fully deserved the audience's obvious appreciation.
The 14 Nov 2015 concert
Jonathan McFeat, Musical Director
Rebecca Carpenter, Flute
Holy Covenant Anglican Church, Cook 14, November.
Our thanks to Peter Hislop for these photos
"Musica Da Camera shone with thoughtfully chosen works consistently well played. "
The April 2018 Concert
The concert commenced with the well-known Concerto for Strings in G 'alla Rustica'; by Vivaldi.  The orchestra played the three contrasting movements with great energy and clarity.
Hindemith's Trauermusik was next with soloist Lucy Carrigy-Ryan on viola.  This hauntingly reflective work was very well played by both soloist and orchestra.  It was followed with Elgar's Serenade for Strings and the orchestra brought out all the warmth and colour of this atmospheric work.
Crisantemi (or Chrysanthemums) by opera composer, Puccini, was next.  This romantic, dramatic work was one of the highlights of the concert, played with great sensitivity by the orchestra.  Another romantic work followed – Waltz for Betz by James Grant.  Lucy Carrigy-Ryan gave a fine performance of the solo part on the viola, nicely supported by the orchestra.
The final work, Whirling Dance, by Australia's Graeme Koehne, was an excellent showcase for the orchestra's ability.  They met the challenge of this work very well, making this a dramatic and rousing finale for the afternoon's concert.  For an encore we were treated to a work by Ennio Morricone, Gabriel's Oboe, from the movie 'The Mission'.  It was sweetly played by the orchestra bringing this delightful concert to a close.
Click HERE to read the whole review on the Canberra Critic's Circle website.