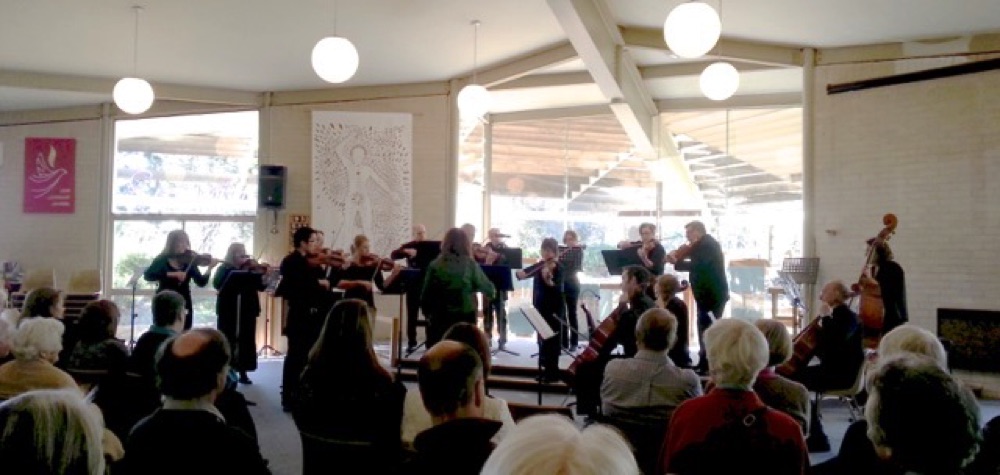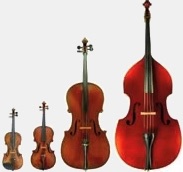 We are proud of ...
"Classic Favourites" 17, 18 Nov 2018
Some excerpts from Len Power's review in the CityNew,com,au:-
MUSICA Da Camera String Orchestra's concert was an easy-going and enjoyable mix of classic favourites that would be well-known to most music lovers.
...The program commenced with a nicely played "Concerto for Four Violins" in B minor by Vivaldi. Rosemary Macphail, Jocelyn James, John Dobson and Heng Lin Yeap played their solos with skill and warmth and the final movement was especially well-played.....
... pieces by Elgar followed – "Salut d'Amour: and "Chanson de Matin". The orchestra gave the first work a lush, romantic sound and the second work was notable for the emotional depth in the sound produced by the orchestra......
...Thirteen-year-old Chantelle Bennett joined the orchestra as soloist for Massenet's "Meditation". .... Bennett played with great beauty and precision, making this one of the highlights of the program....
...Other short works by Sibelius, Delibes and Dvořák were played very well and another highlight of the concert was Corelli's "Christmas Concerto". The orchestra gave a crisp, very atmospheric performance of this work that was most enjoyable....
...Rosemary Macphail played the solo violin for "Czardas" by Monti with great feeling, bringing out the raw passion in this work and the concert concluded with the audience favourite, "The Radetzky March" by Johann Strauss....
... The works presented might be familiar from recordings and the radio, but hearing them played live added another dimension, especially as the orchestra played them very well and with such obvious pleasure.
Read the whole article using this link >>> CityNew,com,au
Musica da Camera usually presents three programs of string music per year. Generally, each program is presented twice, with a concert in Canberra and a concert in a nearby regional community. We also prepare some programs for special events.
Musica da Camera plays music from the string orchesta repertoire, from Baroque to Contemporary, sometimes with soloists. The orchestra engages a different conductor for each program, providing diversity of style and content.
2019 Concert Season
April 7th Canberra at High Court of Aust
Directed by Barbara Gilby
June 15/16  Canberra/Gunning
Directed by Leonard Weiss
August tbc Canberra Baroque works
Nov 23/34 Canberra/Cooma
Directed by Shilong Ye
Canberra's Premier String Orchestra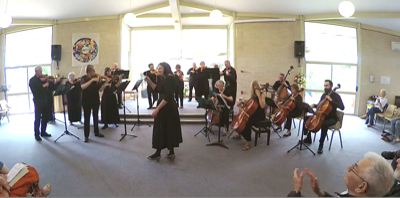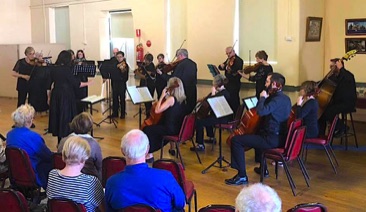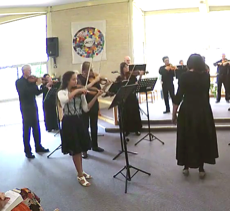 The audience participates in the Radetzky March (17/11/2018)
Massenet's Thais with Chantelle Bennett as soloist (17/11/2018)